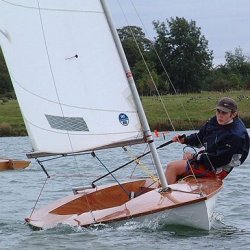 Photo © Tim Coleman
Speed
Streaker
Difficulty:

intermediate

The Streaker dinghy was designed by Jack Holt in 1975. His rationale was to design a 'light weight Solo' as he was finding it difficult to haul his Solo up the slipway as he got older. At 48kgs the Streaker shows exemplary good manners with its stayed una-rig sail plan. It is an easy boat to handle no matter how inexperienced the helm might be.

Size: 3.75 metres long, 1.37 metres wide, weighing approx 48 kilograms
Sails: 6.5 square metres

Number of sailors: 1

Links:
---

List of all boat types

If you notice an error or omission in our information, please contact us.