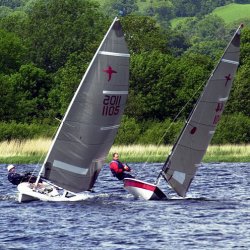 Photo © Julian Abel
Speed
Phantom
Difficulty:

intermediate

A one-design high-performance singlehander, with a deep 'V' bow and a flat run aft to plane easily. A high power to weight ratio - but stable and responsive. Best suited to those over 80 kg, which means you can enjoy your curry and beer and still win the race! This is a strong and developing class.

Size: 4.42 metres long, 1.64 metres wide, weighing approx 61 kilograms
Sails: 9.75 square metres

Number of sailors: 1
Weight of sailor(s): ideally between 76 and 115 kilograms (if racing)

Links:
---

List of all boat types

If you notice an error or omission in our information, please contact us.