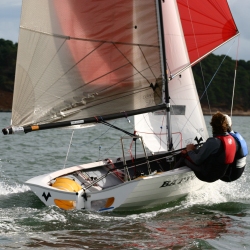 Photo © David Harding
Speed
Merlin Rocket
Difficulty:

intermediate

14 foot restricted class with clinker-style hull. Flared hull up to 7'2" beam to give equivalent righting moment to trapezes and wings. Unusual shape of mainsail with long top batten to give sail area high up useful for rivers. Moderate sized conventional spinnaker, and sophisticated rig controls for the string fetishist. Fleets sail on any size of water from open sea to small lakes and narrow rivers.

Size: 4.27 metres long, 2.2 metres wide, weighing approx 98 kilograms
Sails: 9.96 square metres (extra sail called spinnaker is 8 square metres)

Number of sailors: 2
Weight of sailor(s): ideally between 125 and 155 kilograms (if racing)

Links:
---

List of all boat types

If you notice an error or omission in our information, please contact us.