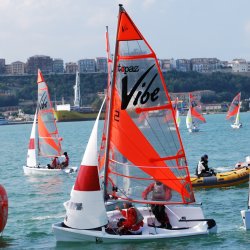 Photo © Topper Sailboats
Speed
Topaz Vibe
Difficulty:

intermediate

The Vibe was designed as a hiking performance double hander but can also be sailed with the addition of a single trapeze. The Vibe offers a great option for schools providing two person race tuition. The beamy hull inspires great confidence in inexperienced sailors. And the chine in the hull provides even greater stability. The Vibe is fast and fun yet stable and controllable thus appealing to a wide range of abilities. The Mylar mainsail area can be reduced by up to 20% using the innovative zip reefing system, meaning that the boat can be altered to suit virtual novices, club racers and even set up as a singlehander.

Size: 3.8 metres long, 1.66 metres wide, weighing approx 70 kilograms
Sails: 9.11 square metres (extra sail called spinnaker is 8.41 square metres)

Number of sailors: 2

Links:
---

List of all boat types

If you notice an error or omission in our information, please contact us.