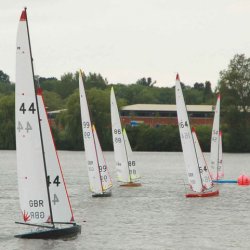 Photo © Roger Stollery
Marblehead
The M or Marblehead Class, sometimes called the "50/800", is a remote-controlled high performance development class. It's original concept in the 1930's was to produce the largest model that would conveniently fit in the standard American car of the time. The class has been highly developed over the years to produce a high performance model that can be sailed in a wide range of conditions, assuming the owner has the appropriate rigs. Boats are available from several suppliers who can provide them from basic kit form to fully assembled.



Number of sailors: 1

Links:
---

List of all boat types

If you notice an error or omission in our information, please contact us.