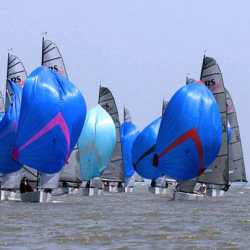 Photo © William Hadley / www.boat-pics.co.uk
Speed
RS Elite
Difficulty:

intermediate

The RS Elite is a strict one design keel boat, with carbon mast and single sail maker ensuring racing is very tight and tactical. Sailed with three crew, a no – hiking rule and light sheet loads ensures that families and friends can be at the front of the pack at championships. The largest fleets are present in Burnham, Hayling Island, Cowes, Belfast Lough, Strangford Lough, Lough Neagh and as far away as Antigua! The class is highly active and has several championships and open regattas during the season. With family and friends crewing it ensures the fleet is very friendly, and so the social side of the events are equally as important as the racing!



Number of sailors: 3

Links:
---

List of all boat types

If you notice an error or omission in our information, please contact us.