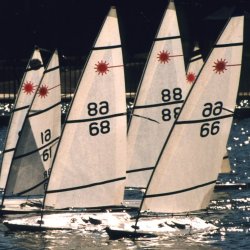 Photo © David Smythe
RC Laser
The RC Laser is the official remote controlled version of the world famous Laser dinghy. The boat is delivered ready to sail - complete with radio control gear. The hull measures approximately one metre overall length and when rigged with the larger of the three sails, the boat stands over 7 feet tall from the bottom of the ballasted dagger board to the sail head.



Number of sailors: 1

Links:
---

List of all boat types

If you notice an error or omission in our information, please contact us.