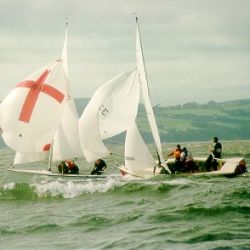 Photo © Phil Cheshire
Speed
Liverpool Bay Falcon
Designed in 1952 by the late Harry Dennis the boat was designed as a strict One Design, capable of lying to exposed moorings. The Falcon was originally constructed in cold moulded ply and the prototype was launched in 1953. The class rules require a 3 person crew for racing although the boat can be easily cruised with a 2 person crew. She has a planing hull with a 43kg steel centreboard that makes for extremely exciting sailing in Force 4 plus conditions. In 1977 the class adopted construction in glass-fibre. The class is sailed fleet at West Kirby, the Dee estuary & at Fidlers Ferry SC (on the upper reaches of the Mersey).



Number of sailors: 3

Links:
---

List of all boat types

If you notice an error or omission in our information, please contact us.