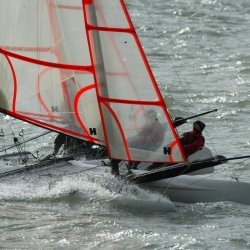 Photo © Chris Sproat
Speed
Spitfire
Difficulty:

expert

The Spitfire is designed by two Olympic gold medallists, Reg White and Yves Loday, both can still been seen regularly on the circuit. A one design, 2 crew catamaran with twin trapeze, spinnaker and boards the Spitfire provides the best of both worlds combining dinghy like handling with the speed of a racing catamaran. There are over 200 boats in the UK, France, Ireland and Belgium and as far afield as Dubai.

This is a catamaran (it has two hulls)


Number of sailors: 2

Links:
---

List of all boat types

If you notice an error or omission in our information, please contact us.