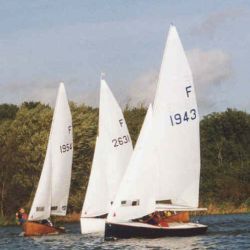 Photo © Jeremy Vines
Speed
Firefly
Difficulty:

intermediate

Two man hiking dinghy with no spinnaker. Once an Olympic singlehanded class the Firefly has been around for 50 years and is an excellent team racing boat. The fleet also has a very active open meeting UK circuit.

Size: 3.65 metres long, 1.4 metres wide, weighing approx 74 kilograms
Sails: 9 square metres

Number of sailors: between 1 and 2
Weight of sailor(s): ideally between 120 and 140 kilograms (if racing)

Links:
---

List of all boat types

If you notice an error or omission in our information, please contact us.