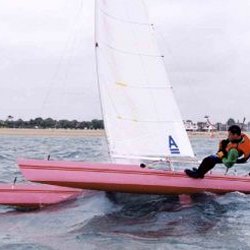 Photo © Unicorn Class
Speed
Unicorn
Difficulty:

expert

The Unicorn is a single handed 'A' class cat with trapeze and una rig and PY of 775. 5.49m (18ft) long, 2.29m (7ft 6in) wide with a sail area of 13sqm. A superb boat in light winds with high performance up to F6 due to the flexibility of the rig settings. All up sailing weight of 108kg, easy for one person to handle on the beach (hulls & tramp 60kg).

This is a catamaran (it has two hulls)
Size: 5.49 metres long, 2.3 metres wide, weighing approx 108 kilograms
Sails: 13 square metres

Number of sailors: 1
Weight of sailor(s): ideally between 70 and 90 kilograms (if racing)

Links:
---

List of all boat types

If you notice an error or omission in our information, please contact us.