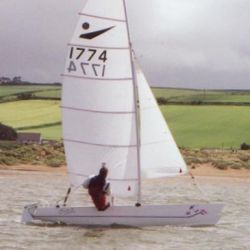 Photo © Bob Carter
Speed
Sprint 15
Difficulty:

intermediate

Singlehanded, single trapeze catamaran with main and jib. There are two forms of the Sprint 15, the Standard and the Sport versions. The National Championships statistics tab below just apply to the Standard version - for Sport mode attendances look at Sprint 15 Sport Class section.

This is a catamaran (it has two hulls)
Size: 4.5 metres long, 2.13 metres wide, weighing approx 54 kilograms


Number of sailors: between 1 and 2

Links:
---

List of all boat types

If you notice an error or omission in our information, please contact us.